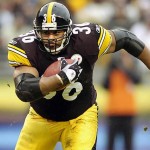 February 16, 1972 Jerome Abram "The Bus" Bettis, retired football player, was born in Detroit, Michigan.
Bettis played football at Mackenzie High School and the University of Notre Dame before being selected in the first round of the 1993 NFL draft by the Los Angeles Rams. In his first year as a professional, he was named Offensive Rookie of the Year.
Over his 13 year career, he was a three-time All-Pro selection and a six-time Pro Bowl selection. Bettis retired in 2006 after leading the Pittsburgh Steelers to Super Bowl victory at Ford Field in Detroit. In 1997, Bettis founded the Bus Stops Here Foundation to aid underprivileged children and in 2001 he was awarded the Walter Payton Man of the Year Award in recognition of his volunteer work and excellence on the field.
His autobiography, "Driving Home: My Unforgettable Super Bowl Run," was published in 2006.
---