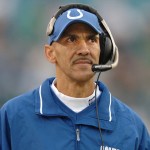 October 6, 1955 Anthony Kevin "Tony" Dungy, the first African American head coach to win the Super Bowl, was born in Jackson, Michigan.
Dungy played quarterback for the University of Minnesota from 1973 to 1976 and finished his college career as Minnesota's career leader in passing yards and touchdowns. He earned his Bachelor of Arts degree in 1977. Dungy played in the National Football League as a defensive back from 1977 to 1979.
After his retirement as a player, Dungy served as a defensive coach for several professional teams from 1981 to 1995. In 1994, Dungy was hired as the head coach of the Tampa Bay Buccaneers. In his five seasons with them, he led them to four playoff appearances and won their division in 1999.
In 2002, Dungy was hired as the head coach of the Indianapolis Colts. In his six seasons coaching the Colts, Dungy led them to the playoffs each season and on February 4, 2007 they won the Super Bowl, making him the first African American head coach to accomplish that.
In 2009, Dungy retired from professional football. His memoir, "Quiet Strength: The Principles, Practices, and Priorities of a Winning Life," was published in 2007 and was number one on the New York Times Best Seller list. He also published "Uncommon: Finding Your Path to Significance" in 2009.