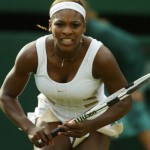 September 26, 1981 Serena Jameka Williams, World No. 1 female professional tennis player, was born in Saginaw, Michigan.
Soon after her birth, Williams' family moved to California where she started playing tennis at the age of four. Williams started playing professional tennis in 1995 but did not win her first professional singles title until 1999. Also in 1999, she became the second African American woman (after Althea Gibson in 1958) to win a Grand Slam singles tournament at the U. S. Open.
She has gone on to win 37 Women's Tennis Association titles, including 27 Grand Slam titles, 13 in singles, 12 in doubles, and 2 in mixed doubles. Williams has won more career prize money than any other female athlete in history. She has also won numerous awards, including the 1998 WTA Newcomer of the Year, 1999 Tennis Magazine Player of the Year, the 2002, 2008, and 2009 WTA Player of the Year, 2003 ESPY Award for Best Female Athlete, and 2003 and 2010 Laureus World Sportswoman of the Year.
In 2008, Williams helped to fund the construction of the Serena Williams Secondary School in Matooni, Kenya. In 2009, she and her sister Venus became part owners of the Miami Dolphins professional football team, the first African American females to obtain ownership in an NFL franchise. Also in 2009, she released her autobiography, "On the Line."