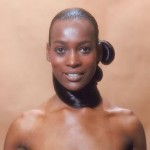 August 3, 2009 Naomi Ruth Sims, the first African American supermodel, died.
Sims was born March 30, 1948 in Oxford, Mississippi. Sims' early attempts to get modeling work through established agencies were frustrated by racial prejudice with some telling her that her skin was too dark. Her first break came in August, 1967 when she was photographed for the cover of the New York Times' fashion supplement.
Her next breakthrough was when she was selected for a national television campaign for AT&T. After that, she went on to achieve worldwide recognition, appearing as the first black model on the cover of Ladies' Home Journal in 1968 and on the cover of Life Magazine in 1969. Sims retired from modeling in 1973 and started her own business, which expanded into a multi-million dollar beauty empire.
She also authored several books on modeling, health and beauty, including "All About Health and Beauty for the Black Woman" (1976), "How to Be a Top Model" (1979), and "All About Success for the Black Woman" (1982).