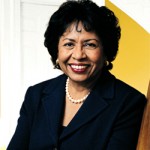 July 3, 1945 Ruth Jean Simmons, the first black president of an Ivy League institution, was born in Grapeland, Texas.
Simmons earned her Bachelor of Arts degree from Dillard University in 1967 and her Master of Arts and doctorate in Romance Literature from Harvard University in 1970 and 1973, respectively. Simmons served in various capacities at a number of colleges and universities prior to becoming the first African American woman to head a major college or university when she was selected in 1995 to become the president of Smith College.
In 2001, Simmons was elected president of Brown University, the university's first female president and making her the first black to head an Ivy League institution. As president, Simmons has completed an ambitious $1.4 billion fundraising initiative and has made internationalization a strategic priority to better prepare students for the challenges and opportunities of an interconnected world.
Simmons is a fellow of the American Academy of Arts and Sciences, the American Philosophical Society, and the Council on Foreign Relations. She also serves on the Board of Directors of Texas Instruments and Goldman Sachs. In 2009, President Barack Obama appointed Simmons to the President's Commission on White House Fellowships.