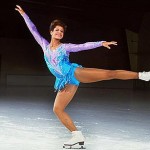 March 25, 1967 Debra Janine "Debi" Thomas, figure skater and physician, was born in Poughkeepsie, New York.
In 1986, Thomas won the U. S. National Ladies' Figure Skating title, the Ladies' World Figure Skating Championship, and earned ABC's Wide World of Sports Athlete of the Year Award. At the 1988 Calgary Olympics, she won the Bronze Medal in ladies' singles figure skating and retired that year from amateur skating after the World Figure Skating Championships where she also won the Bronze Medal.
Thomas graduated from Stanford University in 1991 with a degree in engineering and from the Northwestern University Feinberg School of Medicine in 1997. Thomas was inducted into the U. S. Figure Skating Hall of Fame in 2000 and is currently practicing medicine in Terre Haute, Indiana.
---