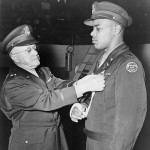 February 15, 1980 Charles Leroy Thomas, Medal of Honor recipient, died.
Thomas was born April 17, 1920 in Alabama. Before World War II, he worked at Ford Motor Company and was a student at Wayne State University. On December 14, 1944 Second Lieutenant Thomas led a task force in the capture of Climbach, France. Thomas' armored car was knocked out by enemy fire and he was wounded.
Thomas helped his crew out of the vehicle and was wounded several more times. Despite his wounds, he directed the placement of anti-tank guns and did not allow himself to be evacuated until the situation was under control. For his bravery under fire, Thomas was awarded the Distinguished Service Cross. After the war, Thomas remained in the army and retired as a Major.
As the result of studies indicating discrimination in the process of awarding medals during World War II, Thomas was posthumously awarded the Medal of Honor, America's highest military decoration, on January 13, 1997.