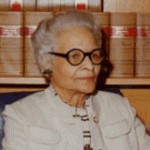 June 17, 1992 Grace Towns Hamilton, the first African American woman elected to the Georgia General Assembly, died.
Hamilton was born February 10, 1907 in Atlanta, Georgia. She earned her Bachelor of Arts degree in 1927 from Atlanta University and her master's degree in psychology from Ohio State University in 1929. In 1943, Hamilton was appointed executive director of the Atlanta Urban League, a position she held until 1961.
Hamilton was elected to the Georgia General Assembly in 1965 and served continuously until 1985. During her tenure, she worked to expand political representation for blacks in city, county, and state government. In 2006, Hamilton was posthumously inducted into the Georgia Women of Achievement.
Books about Hamilton include "The Public Career of Grace Towns Hamilton, a Citizen Too Busy to Hate" (1976) and "Grace Towns Hamilton and the Politics of Southern Change" (1997).