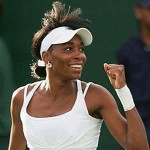 June 17, 1980 Venus Ebony Starr Williams, professional tennis player, was born in Lynwood, California.
Williams began her professional tennis career in 1994 and won her first World Tennis Association singles title in 1998. Over her career, she has won 43 WTA singles titles, more than any other active player on the WTA tour. She has also won 21 Grand Slam titles, seven in singles, twelve in doubles, and two in mixed doubles. That is also more than any other active player, other than her sister, Serena.
At the 2000 Sydney Olympic Games, Williams became only the second player to win Gold medals in both singles and doubles at the same games. She also won a Gold medal in doubles at the 2008 Beijing Olympic Games. Williams has also led the fight for equal prize money for women. After Wimbledon and the French Open announced in 2007 that they would award equal prizes to women, the Chicago Sun-Times cited Williams as "the single factor that changed the minds of the boys" and a leader whose "willingness to take a public stand separates her not only from her female peers, but also from our most celebrated male athletes."
Williams received her associate degree in Fashion Design in 2007 and is Chief Executive Officer of her own interior design company. In 2009, she and her sister became part-owners of the Miami Dolphins, the first African American female owners of a National Football League franchise. In 2005, "Venus and Serena: A Biography" was published.
---