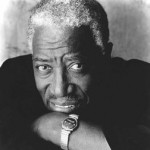 March 29, 1999 Joe Williams, jazz singer, died.
Williams was born Joseph Goreed on December 12, 1918 in Cordele, Georgia. His family moved to Chicago in 1922 and by his early teens he had taught himself to play the piano and formed his own gospel group. By 1939, Williams had started to tour with established bands and got his big break in 1954 when he was hired as the male vocalist for the Count Basie Orchestra, where he remained until 1961.
His first album was recorded in 1955, "Count Basie Swings, Joe Williams Sings," and contained the single "Every Day I Have the Blues" which reached number two on the R&B charts. That recording was inducted into the Grammy Hall of Fame in 1992 as a recording of "lasting qualitative or historical significance." By the 1970s, Williams was appearing regularly on such variety shows as "The Tonight Show" and "The Steve Allen Show."
In 1985, Williams won the Grammy Award for Best Jazz Vocalist for the album "Nothin' But the Blues" and in 1992 he won his second Grammy in that category for "I Just Want to Sing." Williams worked regularly until his death. In 1983, he was given a star on the Hollywood Walk of Fame, in 1993 he was designated a National Endowment for the Arts Jazz Master, and in 1995 he was inducted into the Big Band and Jazz Hall of Fame.
Prior to his death, Williams established the Joe Williams Every Day Foundation to provide support for music and musicians, especially those in jazz, and to create career opportunities for deserving young talent.
---