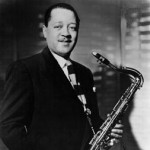 March 15, 1959 Lester Willis Young, jazz tenor saxophonist and clarinetist, died.
Young was born August 27, 1909 in Woodville, Mississippi and played in his family's band on the vaudeville and carnival circuit. He left the family band in 1927 because he refused to play in the South where Jim Crow Laws were in effect. In 1933, Young settled in Kansas City where he rose to prominence playing in the Count Basie Orchestra. He left the Basie band in 1940 and subsequently led a number of small groups.
In 1944, Young was inducted into the United States Army where, unlike many white musicians who were placed in army bands, he was placed in the regular army and not allowed to play his saxophone. After the discovery of alcohol and marijuana in his possessions and the fact that he was married to a white woman, Young was dishonorably discharged from the army.
His career after World War II was far more prolific and lucrative than in prior years in terms of records made, live performances, and annual income. In December, 1957, he appeared in the CBS television production "The Sound of Jazz." Young was posthumously inducted into the Down Beat Jazz Hall of Fame in 1959. His playing style influenced many other tenor saxophonists including Stan Getz, Dexter Gordon and Gerry Mulligan.
There are a number of biographies of Young, including "Lester Young Profession: President" (1987) and "You Just Fight for Your Life: The Story of Lester Young" (1990).
---