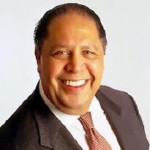 March 23, 1938 Maynard Holbrook Jackson, Jr., the first African American mayor of Atlanta, Georgia, was born in Dallas, Texas.
Jackson earned his Bachelor of Arts degree in political science and history from Morehouse College in 1956 at the age of 18.
After working several jobs, he earned his Juris Doctorate degree cum laude from North Carolina Central University Law School in 1964. In 1969, Jackson was elected Atlanta's first African American vice mayor and in 1973 he was elected mayor. During his time in office, Jackson pressed for vigorous affirmative action programs and set asides for African Americans on publicly funded projects such as the rebuilding of Hartsfield Atlanta International Airport and the  Metropolitan Atlanta Rapid Transit Authority (MARTA) rapid-transit rail line system.
Barred from serving more than two consecutive terms, Jackson left office in 1982. In 1989, he was again elected mayor, a position he held until 1994. In 2002, Jackson founded the American Voters League, a non-partisan effort to increase national voter participation. Jackson died June 23, 2003 and the Atlanta airport was renamed Hartsfield-Jackson Atlanta International Airport in his honor, shortly after his death. Maynard H. Jackson High School in Atlanta is also named in his honor.