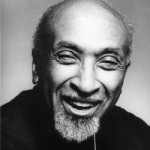 July 29, 2003 Luther Henderson, arranger, composer, orchestrator, and pianist, died.
Henderson was born March 14, 1919 in Kansas City, Missouri. In 1942, he earned his Bachelor of Science degree from the Juilliard School of Music. From 1944 to 1946, Henderson served as staff orchestrator for the United States Navy School of Music. Henderson served as orchestrator, or arranger, or musical director, or composer on more than 50 Broadway musicals, including "Funny Girl" (1964), "No No Nanette" (1971), and "Lena Horne: The Lady and Her Music" (1981).
In 1992, Henderson was nominated for the Tony Award for Best Score for "Jelly's Last Jam" and in 1997 he was nominated for the Tony Award for Best Orchestration for "Play On!" In 2004, Henderson was posthumously designated a Jazz Master by the National Endowment for the Arts.