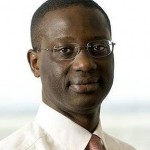 July 29, 1962 Tidjane Thiam, the first black person to head a FTSE 100 (the 100 most highly capitalized companies in the United Kingdom) company, was born in Cote d'Ivoire.
Thiam spent most of his childhood in Paris. In 1984, he received an engineering degree from the École Polytechnique and in 1986 a degree in civil engineering from the École Nationale Supérieure des Mines de Paris where he was top of his class. In 1988, he earned an MBA from INSEAD, an international graduate business school and research institution.
In 1994, Thiam was appointed the head of the National Bureau for Technical Studies and Development for the government of Cote d'Ivoire and in 1997 he became president of the National Council on Information Superhighways and national secretary for Human Resources Development. In 1998, he became Minister of Planning and Development where he oversaw the construction of the first privately financed power plant in Africa.
In 2008, Thiam was appointed finance director at Prudential plc and a year later was named chief executive. Also in 2008, he was named the second most influential black man in the United Kingdom. Thiam is a member of the Africa Progress Panel, an independent authority on Africa to focus world leaders' attention on delivering on their commitments to the continent.