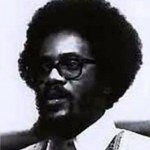 June 13, 1980 Walter Rodney, prominent Guyanese historian and political activist, was assassinated by a bomb placed in his car.
Rodney was born March 23, 1942. He graduated from the University of the West Indies in 1963 and earned his Ph. D. in 1966 at the School of Oriental and African Studies in London. His dissertation focused on the slave trade on the Upper Guinea coast and was published in 1970 as "A History of the Upper Guinea Coast, 1545 – 1800."
Rodney was a prominent Pan-Africanist and influential in the Black Power movement in the Caribbean. When the government of Jamaica banned him from the country in 1968 because of his advocacy for the working poor, riots broke out causing millions of dollars in damages. Those riots are now known as "the Rodney Riots." In 1972, Rodney's most influential book was published, "How Europe Underdeveloped Africa."
In 1974, Rodney returned to Guyana and formed the Working People's Alliance. An annual Walter Rodney Symposium is held at the Atlanta University Center each March 23. The Walter Rodney Foundation is a non-profit organization working to advance education, health, and development by promoting human rights, social justice, and sustainable development from a Pan-African perspective.
---