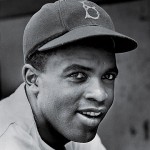 October 24, 1972 Jack Roosevelt "Jackie" Robinson, the first African American Major League Baseball player of the modern era, died.
Robinson was born January 31, 1919 in Cairo, Georgia. After graduating from Pasadena Junior College in 1939, Robinson transferred to UCLA where he became the school's first athlete to win varsity letters in four sports, baseball, basketball, football, and track. Robinson broke the Major League color line when he debuted with the Brooklyn Dodgers in 1947 and over his ten year career he played in six World Series, was selected to six consecutive All-Star Games, won the Rookie of the Year Award in 1947 and the Most Valuable Player Award in 1949.
Robinson was inducted into the Baseball Hall of Fame in 1962. Robinson retired in 1956 and in the 1960s helped establish the Freedom National Bank, an African American owned and operated financial institution in New York City. After his death, Major League Baseball renamed the Rookie of the Year Award the Jackie Robinson Award in 1987 and in 1997 permanently retired his jersey number 42.
In recognition of his achievements on and off the baseball field, Robinson was posthumously awarded the Presidential Medal of Freedom by President Ronald Reagan in 1984 and the Congressional Gold Medal by President George W. Bush in 2005.