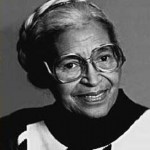 October 24, 2005 Rosa Louise McCauley Parks, the Mother of the Modern Day Civil Rights Movement, died.
Parks was born February 4, 1913 in Tuskegee, Alabama. On December 1, 1955 in Montgomery, Alabama, she refused to obey a bus drivers order to give up her seat to a White passenger and was arrested. Her arrest sparked the Montgomery Bus Boycott and made her an international icon of resistance to racial segregation.
Eventually she moved to Detroit and from 1965 to 1988 worked for United States Representative John Conyers. Parks received many honors, including the 1979 Springarn Medal from the NAACP, 1983 induction to the Michigan Women's Hall of Fame, the Presidential Medal of Freedom presented by President William Clinton in 1996, and the Congressional Gold Medal in 1999.
In 1976, the City of Detroit renamed 12th Street, Rosa Park Boulevard. After her death, Parks was honored as the first woman and second African American to lay in state at the Capitol Rotunda in Washington, D. C. She also laid in state in the Rotunda of the Charles H. Wright Museum of African American History in Detroit, Michigan for 48 hours. Her name is also enshrined in the Ring of Genealogy at the museum.