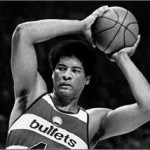 March 14, 1946 Westley Sissel "Wes" Unseld, hall of fame basketball player, was born in Louisville, Kentucky.
Unseld played college basketball for three years beginning in 1965 with the University of Louisville where he was an All-American. He was selected in the first round of the 1968 NBA Draft by the Baltimore Bullets. That year, he became only the second NBA player ever to win both the Rookie of the Year Award and the Most Valuable Player Award.
Over his 13 year professional career, Unseld was a 5-time All-Star and in 1975 he received the NBA's J. Walter Kennedy Citizenship Award for community contributions. Unseld retired after the 1980-1981 season and the Washington Bullets retired his 41 uniform number shortly afterwards.
In 1988, Unseld was inducted into the Naismith Memorial Basketball Hall of Fame and in 1996 he was named one the NBA's 50 Greatest Players of all time. After retiring, Unseld served as a vice president with the Washington Bullets from 1981 to 1987 and as their head coach from 1987 to 1994. He currently operates a private school in Baltimore, Maryland.
---