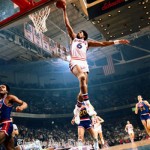 February 22, 1950 Julius Winfield "Dr. J" Erving, Jr., hall of fame basketball player, was born in Roosevelt, New York.
Erving played college basketball at the University of Massachusetts and is one of only five players to average more than 20 points and 20 rebounds in NCAA Men's Basketball. In 1971, he began his professional career with the Virginia Squires of the American Basketball Association and helped to legitimize that league.
In 1976, when the ABA merged with the National Basketball Association, Erving joined the Philadelphia 76ers. Over his 12 season NBA career, Erving was an 11-time All-Star and the NBA Most Valuable Player in 1981. In 1983, he won the J. Walter Kennedy Award for "outstanding service and dedication to the community."
Erving was also one of the first basketball players to endorse many products and to have a shoe marketed under his name. Erving retired in 1987 and in 1993 was inducted into the Naismith Memorial Basketball Hall of Fame. After his basketball career, he became a businessman and television basketball analyst. He also served on the board of several corporations.
---