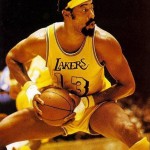 October 12, 1999 Wilton Norman "Wilt" Chamberlain, hall of fame professional basketball player, died.
Chamberlain was born August 21, 1936 in Philadelphia, Pennsylvania. He was 6 feet 11 inches when he entered high school and used that advantage as a prolific scorer throughout his high school and college career. After his junior year of college, Chamberlain played for one year with the Harlem Globetrotters before entering the National Basketball Association in 1959 with the Philadelphia Warriors.
Over his 14 season NBA career, Chamberlain was the 1960 Rookie of the Year, 4-times Most Valuable Player, 2-times league champion, 7-times scoring leader, 11-times rebounding leader, and 13-times All-Star. He is the only player in NBA history to average more than 50 points a game over a season or score 100 points in a single game. Chamberlain was inducted into the Naismith Basketball Hall of Fame in 1978 and in 1996 was chosen as one of the 50 Greatest Players in NBA History.
Chamberlain published two autobiographies, "Wilt: Just Like Any Other 7-Foot Black Millionaire Who Lives Next Door" (1973) and "A View From Above" (1991).
---