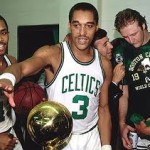 February 22, 2007 Dennis Wayne Johnson, hall of fame basketball player, died.
Johnson was born September 18, 1954 in Los Angeles, California. Johnson played college basketball at Los Angeles Harbor College and Pepperdine University. He was selected by the Seattle Supersonics in the 1976 NBA Draft and over his 15 season professional career was a five-time All-Star and nine-time All-Defensive Team member. Johnson won NBA championships in 1979 with the Supersonics and in 1984 and 1986 with the Boston Celtics. Johnson retired in 1990 and in 1991 the Boston Celtics retired his jersey number 3. After retiring, Johnson served as an assistant coach with various teams.
Johnson was posthumously inducted into the Naismith Memorial Basketball Hall of Fame in 2010.