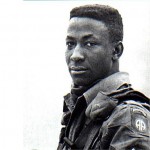 February 21, 1968 Clifford Chester Sims, Medal of Honor recipient, was killed in action.
Sims was born June 18, 1942 in Port St. Joe, Florida. By February 21, 1968, he was serving in the United States Army as a staff sergeant in Company D, 2nd Battalion (Airborne), 501st Parachute Infantry Regiment, 101st Airborne Division.
His actions on that date near Hue in the Republic of Vietnam earned him the medal. His citation partially reads: "While continuing through the dense woods amidst heavy enemy fire, S/Sgt. Sims and his squad were approaching a bunker when they heard the unmistakable noise of a concealed booby trap being triggered immediately to their front. S/Sgt.
Sims warned his comrades of the danger and unhesitatingly hurled himself upon the device as it exploded, taking the full impact of the blast. In so protecting his fellow soldiers, he willingly sacrificed his life."