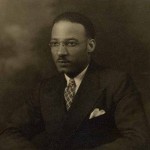 May 2, 1990 William Levi Dawson, professor, choir director, and composer, died.
Dawson was born September 26, 1899 in Anniston, Alabama. He earned his Bachelor of Music degree with honors from the Horner Institute of Fine Arts in 1925 and his master's degree from the American Conservatory of Music in 1927. Dawson served as professor of music at Tuskegee Institute from 1931 to 1956 and during that time developed the Tuskegee Institute Choir into an internationally known ensemble.
Dawson began composing at a young age and his best known works are arrangements and variations on spirituals. His "Negro Folk Symphony" garnered attention at its world premiere by the Philadelphia Orchestra in 1934. The symphony was later revised to "convey the missing elements that were lost when Africans came into bondage outside their homeland." Dawson was honored with Wanamaker Awards in 1930 and 1931 and was given honorary doctorates by Tuskegee University in 1955 and Lincoln University in 1978. He was elected to the Phi Mu Alpha Sinfonia music fraternity in 1977.
---