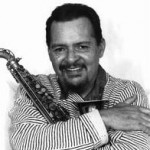 March 31, 2006 John Lenwood "Jackie" McLean, jazz alto saxophonist, composer, bandleader, and educator, died.
McLean was born May 17, 1931 in New York City. During high school, he played in a band that included Kenny Drew, Sonny Rollins, and Andy Kirk, Jr. and at the age of 19 he played on Miles Davis' "Dig" album. McLean also recorded with Gene Ammons, Charlie Mingus, and as a member of Art Blakey's Jazz Messengers.
As a leader, McLean recorded more than 35 albums, including "Lights Out!" (1956), "Let Freedom Ring" (1962), and "Nature Boy" (2000). In 1968, he began teaching at the University of Hartford where he established the African American Music Department (now the Jackie McLean Institute of Jazz) and the Bachelor of Music degree in Jazz Studies program.
In 1970, McLean founded the Artists Collective, Inc. of Hartford, an organization dedicated to preserving the art and culture of the African Diaspora. It provides educational programs and instruction in dance, theater, music, and the visual arts. In 2001, McLean was designated a NEA Jazz Master by the National Endowment for the Arts.
---