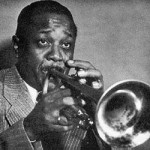 February 26, 1989 Roy David Eldridge, jazz trumpeter, died.
Eldridge was born January 30, 1911 in Pittsburgh, Pennsylvania. He originally played drums, tuba, and trumpet. Eldridge led bands from his early years, moving to St. Louis and New York, where he played in various bands in the early 1930s. From 1941 to 1943, he played in the Gene Krupa Orchestra and then joined Artie Shaw's band.
Eldridge's discography includes "Nuts" (1950), "Little Jazz" (1957), "Happy Time" (1975), and "Roy Eldridge & Vic Dickenson" (1978). Eldridge was inducted into the Down Beat Jazz Hall of Fame in 1971 and was designated a NEA Jazz Master by the National Endowment for the Arts in 1982. His biography, "Roy Eldridge, Little Jazz Giant," was published in 2002.
---