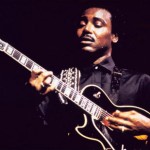 March 22, 1943 George Benson, Grammy Award winning jazz guitarist and singer, was born in Pittsburgh, Pennsylvania.
At the age of eight, Benson was playing guitar in nightclubs and at the age of 10 he recorded his first single, "She Makes Me Mad." From 1961 to 1965, he played with jazz organist Jack McDuff. In 1964, Benson recorded his first album as leader, "The New Boss Guitar."
In 1976, Benson began to add his voice to his playing with the release of "Breezin'" which won three Grammy Awards and became the best selling jazz album of all time. "This Masquerade" from that album won the Grammy Award for Record of the Year. Two years later, "On Broadway" from the album "Weekend in L. A." won a Grammy Award for Best R&B Vocal Performance.
Other albums by Benson include "Livin' Inside Your Love" (1979), "In Your Eyes" (1983), "Standing Together" (1998), and "Givin' It Up (For Love)" (2006). In 2009, Benson was recognized by the National Endowment of the Arts as a Jazz Master, the highest honor in jazz. Benson is currently touring and performing.
---