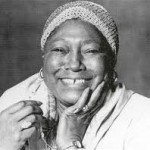 November 17, 1998 Esther Rolle, stage, film and television actress, died.
Rolle was born November 8, 1920 in Pompano Beach, Florida. Her earliest roles were on the stage, including "The Blacks" (1962), "Day of Absence" (1965), "Man Better Man" (1969), and her most prominent role in the 1973 play "Don't Play Us Cheap."
Rolle is best known for her role as Florida Evans on the television situation comedies "Maude" (1972-1974) and "Good Times" (1974-1979). In 1979, Rolle won an Emmy Award for Outstanding Actress in a Miniseries or Movie for her role in "Summer of My German Soldier."
She also appeared in "I Know Why the Caged Bird Sings" (1979), "Driving Miss Daisy" (1989), and "My Fellow Americans" (1996).