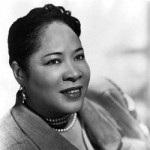 November 6, 1901 Juanita Hall, musical theater and film actress, was born in Keyport, New Jersey.
After receiving classical training at Julliard School, she became a leading Broadway performer. She performed the role of Bloody Mary, a Pacific Islander, in the musical "South Pacific" for 1,925 performances on Broadway.
In 1950, she became the first African American to win a Tony Award for Best Supporting Actress for her role in the play. In 1958, she reprised the role in the film version of "South Pacific." She also performed on Broadway in "Flower Drum Song" as a Chinese American. Hall died February 28, 1968.