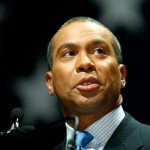 November 7, 2006 Deval Patrick was elected the first African American Governor of Massachusetts and the second African American governor in the United States.
Patrick was born July 31, 1956 in Chicago, Illinois and while in middle school was referred to A Better Chance, a national organization for developing leaders among academically gifted students of color. He graduated from Milton Academy in 1974, Harvard College in 1978 and Harvard Law School in 1982.
In 1994, Patrick was appointed United States Assistant Attorney General for the Civil Rights Division. In 1997, he returned to private law practice in Boston and from 2000 to 2004, he served as Executive Vice President, General Counsel, and Corporate Secretary for Coca-Cola Company.