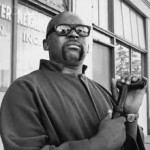 July 14, 1941 Ronald McKinley Everett (Ron or Maulana Karenga), the creator of Kwanza, was born in Parsonsburg, Maryland.
Karenga earned his Bachelor of Arts and Master of Arts degrees in political science from the University of California in 1963 and 1964, respectively. In 1976, he was awarded his first Ph.D. from United States International University and in 1994 he was awarded a second Ph.D. from the University of Southern California. In 1966, Karenga introduced the Seven Principles of Blackness and Kwanzaa.
Karenga was active in the Black Power movement of the 1960s and 1970s and was imprisoned from 1971 to 1975. Karenga has authored several books, including "Kwanzaa: A Celebration of Family, Community and Culture" (1998) and "Introduction to Black Studies" (2002). Karenga is currently professor of Africana Studies at California State College.