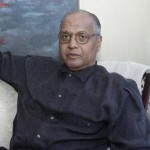 October 27, 2009 Roy Rudolph DeCarava, photographer, died.
DeCarava was born December 9, 1919 in Harlem, New York. He determined early that he wanted to be an artist and initially worked as a painter and commercial illustrator. Eventually he was drawn to photography and in 1955 opened A Photographer's Gallery, pioneering an effort to win recognition for photography as a fine art.
Also in 1955, he collaborated with Langston Hughes on a book about life in Harlem, "The Sweet Flypaper of Life." DeCarava served as professor of photography at Cooper Union Institute from 1968 to 1975 and Hunter College from 1975 to his death.
In 2006, he was awarded the National Medal of Arts by the National Endowment for the Arts.