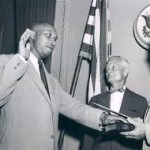 July 20, 1994 Everett Frederick Morrow, businessman and the first African American to hold an executive position at the White House, died.
Morrow was born April 20, 1906 in Hackensack, New Jersey. Morrow graduated from Bowdoin College in 1930 and was employed by the National Urban League and the NAACP as field secretary before entering the United States Army in 1942 during World War II.
Morrow graduated from Officers Candidate School in 1943 and was discharged in 1946 as a major of artillery. In 1948, he earned his Juris Doctor degree from Rutgers University. In 1955, he joined President Dwight Eisenhower's staff as Administrative Officer for Special Projects where he served until 1961.
In 1963, he published his account of the experience in his autobiography "Black Man in the White House." In 1964, Morrow became the first Black corporate executive at Bank of America.