March 12, 1864 Charles Young, the third African American graduate of West Point, was born in Mayslick, Kentucky.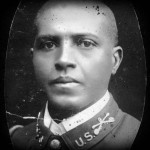 After graduating from high school, Young taught at a black high school in Ripley, Ohio.
In 1884, he entered the United States Military Academy at West Point and graduated in 1889. In 1903, he was appointed superintendent of Sequoia and General Grant national parks, becoming the first black superintendent of a national park. During the 1916 Punitive Expedition into Mexico, Young commanded a squadron of the 10th Calvary (Buffalo Soldiers) and due to his exceptional leadership was promoted to Lieutenant Colonel.
Young was medically retired from the military in 1917 and spent most of 1917 and 1918 as a professor at Wilberforce University. In late 1918, he was reinstated and promoted to Colonel and assigned as a military attaché to Liberia where he died on January 8, 1922. In 1916, he was awarded the NAACP Spingarn Medal and his house near Wilberforce is a National Historic Landmark. The Charles E. Young Elementary School in Washington, D. C. was built to improve education in the city's Black neighborhoods.
Several biographies have been published about Young, including "Colonel Charles Young: Soldier and Diplomat" (1985), "For Race and Country: The Life and Career of Charles Young" (2003),and "Black Officer in a Buffalo Soldier Regiment: The Military Career of Charles Young" (2010).