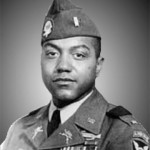 July 13, 2010 Vernon Joseph Baker, Medal of Honor recipient, died.
Baker was born December 17, 1919 in Cheyenne, Wyoming. He graduated from high school and worked several menial jobs before enlisting in the United States Army in 1941. After completing Officer Candidate School, he was commissioned as a second lieutenant in 1943. In 1944, Baker was sent to Italy with the all-black 92nd Infantry Division. On April 5, 1945, he participated in an attack on the German stronghold of Castle Aghinolfi.
During the assault, he led his heavy weapons platoon through German defenses to within sight of the castle, personally destroying three machine gun nests, two observation posts, two bunkers, and a network of German telephone lines. It was for these actions that he was later awarded the Medal of Honor. Baker retired from the military in 1968 as a first lieutenant. In 1992, a study commissioned by the U. S. Army described systematic discrimination in the criteria for awarding medals during World War II. No Medal of Honors had been awarded to Black soldiers who served in the war.
After a review of files, the study recommended that seven Black Distinguished Service Cross recipients have their awards upgraded to the Medal of Honor, America's highest military decoration. On January 13, 1997, President William Clinton presented the medals. Baker was the only recipient still living.