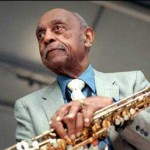 July 12, 2003 Bennett Lester "Benny" Carter, jazz musician, composer, arranger and bandleader, died.
Carter was born August 8, 1907 in New York City. Largely self-taught, by the age of 15 Carter was sitting in with some of New York's top bands. In 1929, Carter formed this first big band and from 1931 to 1932 led the Detroit-based McKinney's Cotton Pickers. During the 1930s, Carter was also noted for his arrangements, including "Keep a Song in Your Soul" (1930), "Lonesome Nights" (1933), and "Symphony in Riffs" (1933).
Carter moved to Europe in 1935 and became staff arranger for the British Broadcasting Corporation dance orchestra. Carter returned to the United States in 1938 and beginning with "Stormy Weather" in 1943 began to arrange for feature films. Carter was one of the first African Americans to compose music for films. In 1963, he won the Grammy Award for Best Background Arrangement for "Busted" by Ray Charles. In 1977, Carter was inducted into the Downbeat Jazz Hall of Fame and in 1986 the National Endowment for the Arts honored him with the NEA Jazz Masters Award, the highest honor the nation bestows on jazz musicians.
In 1987, he was awarded the Grammy Lifetime Achievement Award and in 1994 he won the Grammy Award for Best Jazz Instrumental Solo for "Prelude to a Kiss." In 2000, President William Clinton presented Carter with the National Medal of Arts, the highest honor the nation gives to artists. Carter received honorary doctorates from Princeton, Rutgers, Harvard, and the New England Conservatory. Carter's biography, "Benny Carter: A Life in Music," was published in 1982.