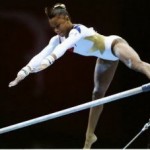 November 20, 1976 Dominique Margaux Dawes, gymnast, was born in Silver Springs, Maryland.
Dawes was introduced to gymnastics at the age of six and competed in her first international meet at the age of twelve. As members of the Bronze medal winning United States Olympic gymnastics team at the 1992 Barcelona Olympic Games, she and Betty Okino became the first African American females to win an Olympic gymnastics medal.
At the 1996 Atlanta Olympic Games, the U. S. team won the Gold medal and Dawes became the first black woman to win an Olympic gold medal in gymnastics. At the 2000 Sydney Olympic Games, Dawes contributed to the U. S. team winning the Bronze medal which gave her more Olympic team medals than any other U. S. gymnast.
After retiring from the sport, Dawes earned a bachelor's degree from the University of Maryland in 2002 and began pursuing a career in acting, modeling and television production. She served as President of the Women's Sports Foundation from 2004 to 2006, the youngest president in the foundation's history, and is currently on the Advisory Board of Sesame Workshop's "Healthy Habits for Life" program. She also works as a motivational speaker, concentrating on youth issues.
Dawes was inducted into the USA Gymnastics Hall of Fame in 1998 and the International Gymnastics Hall of Fame in 2009. In 2010, President Barack Obama appointed her co-chair of the President's Council on Fitness, Sports, and Nutrition.