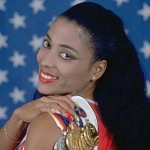 September 21, 1998 Florence Delorez "Flo-Jo" Griffith-Joyner died as the result of suffocating during a severe epileptic seizure.
Griffith-Joyner was born on December 21, 1959 in Los Angeles, California. At the 1984 Los Angeles Olympic Games, Griffith-Joyner won the Silver Medal in the 200 meter race. At the 1988 Seoul Olympic Games, she won the Gold Medal in the 100 and 200 meter races and the 4 by 100 meter relay and the Silver Medal in the 4 by 400 meter relay.
She still holds the world records in the 100 and 200 meter races. In 1988, Griffith-Joyner was the recipient of the James E. Sullivan Award as the top amateur athlete in the United States. She retired from competitive sports shortly afterwards the 1988 Olympic Games.