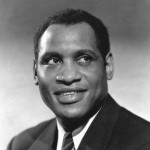 January 23, 1976 Paul LeRoy Bustill Robeson, concert singer, scholar, stage and film actor, athlete, and multi-lingual orator, died.
Robeson was born April 9, 1898 in Princeton, New Jersey. He won a full academic scholarship to Rutgers University, the third African American student accepted at Rutgers. Although he was the only black student on campus during his time there, he earned his Bachelor of Arts degree in 1919 as the class valedictorian.
He also was named All-American in football in 1917 and 1918. In 1923, Robeson earned his Bachelor of Laws degree from Columbia Law School and began to find fame as an actor and singer with his bass voice and commanding presence. Early stage roles included "The Emperor Jones" (1924), "All God's Chillun Got Wings" (1924), and "Porgy" (1927). Robeson's rendition of "Ol' Man River" in "Show Boat" is considered the definitive version of the song. His Broadway run in "Othello" is the longest of any Shakespeare play. Robeson's first film was "Body and Soul" (1924) and between 1925 and 1942 he appeared in eleven films, including "Song of Freedom" (1936), and "King Solomon's Mines" (1937).
At the height of his fame, Robeson became a political activist, speaking out against fascism and racism in the United States and abroad. In 1937, he co-founded the Council on African Affairs to focus on providing pertinent and current information about Africa to African Americans. In 1953, the CAA was charged with subversion and the organization disbanded in 1955. Robeson traveled throughout the world and was conversant in 20 languages and fluent in 12. Robeson was the 1945 recipient of the NAACP Spingarn Medal.
From 1950 to 1958, his passport was revoked and he was under surveillance by the FBI and CIA until his death. Robeson's only book, "Here I Stand" was published in 1958. Robeson's posthumous recognitions and honors number in the thousands and include three buildings on the Rutgers campus named in his honor, his West Philadelphia home is now a historical site and museum, 1995 induction into the College Football Hall of Fame, a Grammy Lifetime Achievement Award in 1998, and a 2004 commemorative postage stamp issued by the United States Postal Service.