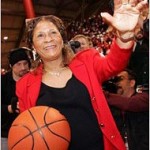 March 16, 1948 Charlaine Vivian Stringer, hall of fame college basketball coach, was born in Edenborn, Pennsylvania.
In high school, Stringer sued her school for not allowing her to be a cheerleader because of her race.
She won the case and was given a spot on the cheerleading squad. Stringer earned her Bachelor of Arts degree from Slippery Rock University in 1970. She began her college basketball coaching career in 1972 and currently has the third most wins in women's basketball history. She is the first coach in NCAA history to lead three different women's programs to the NCAA Final Four, Cheyney State College in 1982, the University of Iowa in 1993, and Rutgers University in 2000 and 2007.
She was named National Coach of the Year in 1982, 1988, and 1993. Stringer was also one of the key players in the development of the Women's Basketball Coaches Association. In 1993, she received the Carol Eckman Award, which acknowledges the coach most demonstrating spirit, courage, integrity, commitment, leadership and service to the game of women's basketball. In 2002, the United States Sports Academy renamed its annual women's coaching award the C. Vivian Stringer Medallion Award of Sport for Women's Coaching.
In 2008, the C. Vivian Stringer Child Development Center was dedicated on the campus of Nike in Beaverton, Oregon. Stringer was inducted into the Women's Basketball Hall of Fame in 2001 and the Naismith Memorial Basketball Hall of Fame in 2009. She published her autobiography, "Standing Tall: A Memoir of Tragedy and Triumph," in 2008.