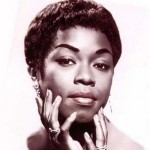 March 27, 1924 Sarah Lois Vaughan, jazz singer known as "The Divine One," was born in Newark, New Jersey.
Vaughan began piano lessons at the age of seven and sang in the church choir. By her mid-teens, she was performing in local nightclubs. In 1942, Vaughan sang "Body and Soul" at the Apollo Amateur Night contest and won. She was noticed by Earl Hines and spent 1943 and 1944 touring the country with his big band.
Vaughan began her solo career in 1945 and recorded a number of hit jazz singles, including "If You Could See Me Now" (1946), which was inducted into the Grammy Hall of Fame in 1998 as a recording of "qualitative or historical significance", "Black Coffee" (1949), "Make Yourself Comfortable" (1954), and "Broken Hearted Melody" (1959). In 1947, she won Esquire Magazine's New Star Award. Her 1977 album "I Love Brazil" garnered a Grammy nomination. In 1980, Vaughan performed a symphonic Gershwin program with the New Jersey Symphony which was broadcast by PBS and it won the 1981 Emmy Award for Individual Achievement – Special Class. A slightly modified version was recorded "Gershwin Live!" and it won the 1983 Grammy Award for Best Jazz Vocal Performance – Female.
Vaughan was inducted into the Down Beat Jazz Hall of Fame in 1985 and the American Jazz Hall of Fame in 1988. In 1989, the National Endowment for the Arts named her a NEA Jazz Master, the highest honor in jazz, and she received a Grammy Award for Lifetime Achievement. Vaughan died April 3, 1990. The documentary "Sarah Vaughan: The Divine One" was released in 1991 and her biography, "The Life of Sarah Vaughan", was published in 1993.
---