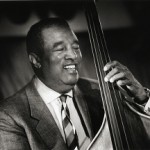 October 13, 1926 Raymond Mathew Brown, jazz double bassist, was born in Pittsburgh, Pennsylvania.
At the age of eight, Brown started piano lessons but switched to the bass in high school. After graduating from high school he moved to New York City and in 1946 joined Dizzy Gillespie's band. He played with Gillespie until 1951 when he joined the Oscar Peterson Trio, with which he played until 1966.
In 1966, Brown moved to Los Angeles where he worked for various television show orchestras and accompanied some of the leading artists of the day, including Frank Sinatra, Billy Eckstine, Sarah Vaughan, and Nancy Wilson. It was during this time that he won his first Grammy Award for his composition, "Gravy Waltz," which later became the theme music for "The Steve Allen Show."
During the 1980s and 1990s, Brown led his own trio and he continued to play until his death on July 2, 2002. In 2003, Brown was posthumously inducted into the Down Beat Hall of Fame.

---