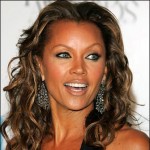 March 18, 1963 Vanessa Lynn Williams, model, singer, songwriter and actress, was born in Tarrytown, New York.
Williams began competing in beauty pageants in the early 1980s and in September, 1983 was crowned Miss America 1984, the first Miss America of African descent. Her short reign was initially marred by the fact that she became the target of racially based death threats and hate mail. After some potentially embarrassing photographs were discovered, Williams resigned in July, 1984.
In 1988, Williams released her debut album, "The Right Stuff," which reached gold status and earned her three Grammy Award nominations. Her second album, "The Comfort Zone," sold 2.2 million copies and earned her five Grammy Award nominations. In total, Williams has sold more than 6 million records and earned 15 Grammy Award nominations. Williams has also appeared on Broadway in "Kiss of the Spider Woman" (1994) and "Into the Woods" (2002), for which she received a Tony Award nomination. Her film roles include "Soul Food" (1997) and "My Brother" (2007).
She can be currently seen in the ABC television comedy "Ugly Betty," for which she received an Emmy Award nomination for Outstanding Supporting Actress, and "Desperate Housewives."
---