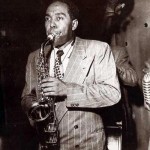 March 12, 1955 Charles "Bird" Parker, Jr., jazz saxophonist and composer, died.
Parker was born August 29, 1920 in Kansas City, Kansas. He began playing the saxophone at age 11 and by 1938 was touring nightclubs and other venues in the southwest. In 1939, he moved to New York City where on November 26, 1945, he led a recording session for the Savoy label, marketed as the "greatest jazz session ever." During his career, Parker played a leading role in the development of bebop and his innovative approaches exercised enormous influence on his contemporaries.
Parker was inducted into the Down Beat Jazz Hall of Fame in 1955 and the Big Band Hall of Fame in 1979. In 1984, Parker was posthumously honored with a Grammy Lifetime Achievement Award, in 1995, the United States Postal Service issued a commemorative postage stamp in his honor and in 2002 the Library of Congress honored his recording "Ko-Ko" (1945) by adding it to the National Recording Registry. Four of his recordings have been inducted into the Grammy Hall of Fame as having "qualitative or historical significance."
Much has been written about Parker, including "Charlie Parker" (1960) and "Bird: The Legend of Charlie Parker" (1962). A memorial to Parker, featuring a 10 foot tall bronze head, is located in Kansas City near the American Jazz Museum.
---