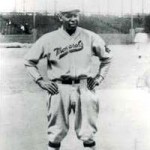 March 4, 1967 Charles Wilber "Bullet" Rogan, hall of fame pitcher and outfielder, died.
Rogan was born July 28, 1893 in Oklahoma City, Oklahoma and lied about his age to enlist in the Army in 1911. He was honorably discharged in 1914 but re-enlisted to play for the all-black Army baseball team. He began his professional career in 1920 with the Kansas City Monarchs and played until 1938.
Over that period he won more games than any other pitcher in Negro League history and compiled the fourth highest career batting average. Casey Stengel of the New York Yankees called him "one of the best, if not the best, pitcher that ever lived". After retiring as a player, Rogan became an umpire in the Negro American League until 1946 and then worked for the United States Postal Service.
Rogan was elected to the Baseball Hall of Fame in 1998.