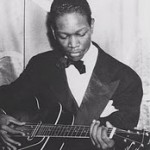 March 2, 1942 Charles Henry Christian, swing and jazz guitarist, died.
Christian was born July 29, 1916 in Bonham, Texas but raised in Oklahoma City, Oklahoma. By 1936, he was playing electric guitar and had become a regional attraction. In 1939, he was hired by Benny Goodman for the newly formed Goodman sextet. By 1940, Christian dominated the jazz and swing guitar polls and was elected to the Metronome All-Stars.
Christian was the first great soloist on the amplified guitar and many later guitarists were influenced by him, including Les Paul, Kenny Burrell, and Wes Montgomery. In 1966, Christian was posthumously inducted into the Down Beat Jazz Hall of Fame and in 1990 he was posthumously inducted into the Rock and Roll Hall of Fame.
In 2006, Oklahoma City renamed a street in his honor.
---