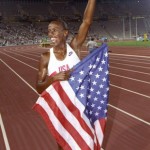 March 3, 1962 Jacqueline Joyner-Kersee, three-time Olympic Gold Medal winner, was born in East St. Louis, Illinois.
Joyner-Kersee attended the University of California at Los Angeles from 1980 to 1984, where she starred in both track and field and basketball. She competed at four Olympic Games, the 1984 Los Angeles Games where she won the Silver Medal in the heptathlon, the 1988 Seoul Games where she won Gold Medals in the heptathlon and long jump, the 1992 Barcelona Games where she won the Gold Medal in the heptathlon and the Bronze Medal in the long jump, and the 1996 Atlanta Games where she won the Bronze Medal in the long jump.
In 1986, Joyner-Kersee received the James E. Sullivan Award as the top amateur athlete in the country and in 2001 she was voted the Top Woman Collegiate Athlete of the Past 25 Years. Sports Illustrated for Women magazine voted her the Greatest Female Athlete of the 20th Century. In 1988, Joyner-Kersee founded the Jackie Joyner-Kersee Foundation which provides youth, adults and families with resources to improve the quality of their life. Joyner-Kersee published her autobiography, "A New Kind of Grace," in 1997.
---