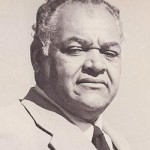 April 18, 2005 Clarence Edward "Big House" Gaines, Sr., Hall of Fame college basketball coach, died.
Gaines was born May 21, 1923 in Paducah, Kentucky and attended Lincoln High School where he excelled academically and athletically, graduating as class salutatorian in 1941. Gaines earned his Bachelor of Science degree in chemistry from Morgan State College in 1945 and in 1950 earned a Master of Arts degree in education from Columbia University.
In 1946, Gaines became the head coach for football and basketball at Winston Salem Teachers College. In 1950, he dropped football to concentrate on basketball which he coached until 1993. In 1967, he led Winston Salem to the Division II NCAA Championship, the first basketball program from a historically black college or university to capture an NCAA national championship. For that he was named the Division II College Coach of the Year. In 1982, he was inducted into the Naismith Memorial Basketball Hall of Fame, the only African American inducted as a coach.
---
The C. E. Gaines Center, the athletic complex at Winston Salem, is named in his honor and in 2006 he was posthumously inducted as part of the inaugural class into the College Basketball Hall of Fame. His autobiography, "They Call Me Big House," was published in 2004.