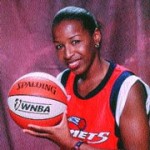 April 14, 1963 Cynthia Lynne Cooper, hall of fame basketball player, was born in Chicago, Illinois.
Cooper played collegiate basketball at the University of Southern California and led them to back to back NCAA tournament championships in 1983 and 1984. After leaving college, she played professional basketball in Spain and Italy from 1986 to 1996. During that time, she was also a member of the United States Women's Basketball Team that won the Gold medal at the 1988 Seoul, South Korea Olympic Games and the Bronze medal winning team at the 1992 Barcelona, Spain Olympic Games.
Cooper joined the Houston Comets of the WNBA in 1997 and over her four season career in that league, won four WNBA championships, was Most Valuable Player in 1997 and 1998, and was named the Sportswoman of the Year by the Women's Sports Foundation in 1998. After retiring as a player, Cooper coached the Phoenix Mercury in the WNBA, the women's team at Prairie View A & M, and in 2010 was appointed the head coach at the University of North Carolina Wilmington.
Cooper was inducted into the Women's Basketball Hall of Fame in 2009 and the Naismith Memorial Basketball Hall of Fame in 2010, the first WNBA player to be inducted.