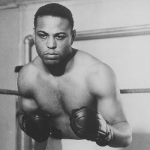 April 18, 1974 John Henry Lewis, hall of fame boxer, died.
Lewis was born May 1, 1914 in California but grew up in Phoenix, Arizona where his father owned a boxing gym. Lewis began his professional boxing career in 1928 at the age of 14.
In 1935, Lewis won the world Light Heavyweight boxing championship, the first African American to hold that title. Lewis held the title until an eye problem forced him to retire in 1939 with a record of 103 wins, 8 losses, and 6 draws. Lewis was posthumously inducted into the International Boxing Hall of Fame in 1994.