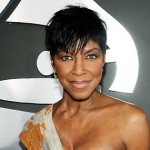 February 6, 1950 Natalie Marie Cole, singer, songwriter and actress, was born in Los Angeles, California.
Cole graduated in 1972 from the University of Massachusetts with a major in Child Psychology and a minor in German. Cole released her first album, "Inseparable," which contained the hit singles "This Will Be" and the title track in 1975 and won the Grammy Award for Best Female R&B Vocal Performance and the Grammy Award for Best New Artist.
She followed that album with such albums as "Unpredictable" (1977), "Unforgettable……With Love" (1991), "Ask a Woman Who Knows" (2002), and "Still Unforgettable" (2008). Over her career, she has won seven additional Grammy Awards.
Cole has also started a career in acting, appearing in several television dramas, the film "De-Lovely" (2004), and starring as herself in "Livin' for Love: the Natalie Cole Story" (2001).
---